Flanged Mounted Gear Pumps-SGX Series Pump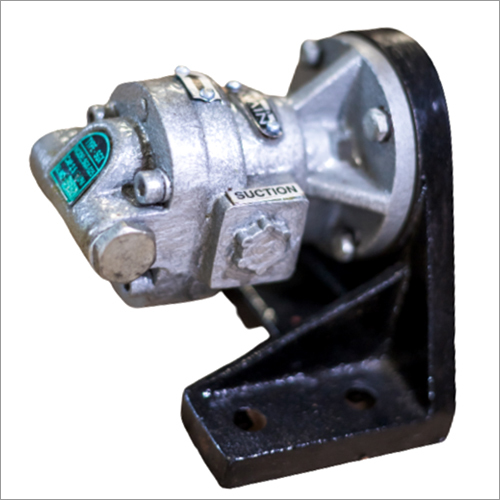 Flanged Mounted Gear Pumps-SGX Series Pump
Product Description
Flanged Mounted Gear Pumps-SGX Series Pump manufactured and supplied by us can be used for the transportation of light to semi-viscous fluids in various industries such as petrochemical, paint, chemical processing, and many more. It is compact and sturdy in design and can be easily installed with the help of mechanical fasteners. Buyers can get this industrial-grade Flanged Mounted Gear Pumps-SGX Series Pump from our company in bulk at a reasonable price range.
Features
Reliable for Transfer of
Viscous & Semi viscous Liquids like LDO, FO, HSD,
Lubricating Oils etc.
Compact & Highly useful for Standardizing on
Centralized Lubricating System
"Pumping & Heating System
Oil Filtration & Cleaning System
Transformer Oil Purification System
Wide Capacity Range
Optionally Converted to Foot type with the help of L type
Bracket which Matches with the Frame of Electrical Motor.
Option of External Ball Bearing Support to Drive Shaft.
Horse Power And Capacity Chart
Model

Pump model

INLET / OUTLET B.S.P

Capacity

Horse Power & Capacity Chart

LPM

US GPM

M3 /hr

X 1

2

3

4

5

6

7

8

10

SGX :025-S

X

1440 RPM

8.30

2.20

0.50

0.20

0.23

0.27

0.30

0.32

0.36

0.38

8.0

SGX :025-L

16.60

4.40

1.00

0.24

0.28

0.32

0.36

0.40

0.48

0.52

0.68

SGX :050-S

25.00

6.60

1.50

0.30

0.36

0.41

0.47

0.52

0.63

0.70

0.93

SGX : 050 -L

1X1

33.30

8.80

2.00

0.37

0.45

0.54

0.62

0.69

0.85

0.92

1.25

14.0

SGX :075-S

41.50

11.00

2.50

0.38

0.48

0.57

0.65

0.76

0.95

1.08

1.41

SGX :075-L

50.00

13.20

3.00

0.40

0.50

0.60

0.75

0.89

1.17

1.30

1.85

SGX : 100-S

1 X 1

83.30

22.00

5.00

0.70

1.00

1.20

1.40

1.50

1.95

2.15

2.95

22.5

SGX: 100-L

100.00

27.60

6.00

0.85

1.10

1.35

1.55

1.77

2.22

2.45

3.45

SGX :125-S

125.00

33.30

7.50

1.05

1.45

1.95

2.10

2.40

2.95

3.25

4.90

SGX: 125-L

2 X 2

150.00

39.00

9.00

1.35

1.80

2.45

3.0

3.50

4.50

5.25

7.60

28.0

SGX : 150-S

200.00

52.80

12.00

1.80

2.40

2.95

3.50

4.05

5.15

5.70

8.10

SGX: 150-L

250.00

66.00

15.00

2.00

2.50

3.20

3.75

4.30

5.60

6.20

9.50

43.0

SGX : 200-S

333.00

88.00

20.00

3.80

4.65

5.50

6.35

7.25

9.05

10.50

14.35

SGX : 200-L

3 X 3

415.00

105.00

25.00

5.00

6.00

7.00

8.00

9.00

11.00

12.00

16.50

59.0

SGX : 250-S

500.00

132.00

30.00

6.00

7.35

8.65

10.18

11.45

14.05

15.40

21.00

SGX : 250 -L

4 X 4

666.60

176.00

40.00

8.85

10.50

12.00

13.65

16.25

18.25

20.00

25.50

150.0

SGX : 300-S

833.30

220.00

50.00

9.50

11.50

14.00

16.00

18.00

22.50

25.00

35.50

SGX : 300 -L

5 X 5

1000.00

264.00

60.00

14.50

17.20

19.00

22.00

24.80

30.00

32.40

42.50

175.0